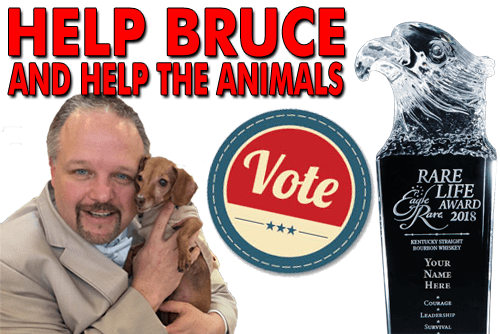 WVTK's Award-Winning Morning Show, "The Wake Up Crew with Bruce and Hobbes" has the distinction of being the only Human / Canine Broadcast Team.
And for years, they've been helping animals through their work at WVTK, their advocacy, and their book, "Hobbes Goes Home".
This past Christmas, Bruce heard of another Dachshund that needed help.  Zoey had been abused, neglected, and in imminent danger of being euthanized because of shelter overcrowding.  He launched a nationwide rescue on Christmas Eve to find and save her.  After contacting over 220 rescue shelters, he found her and brought her home.
For his exceptional act of compassion towards animals, Bruce has been nominated for the "Eagle Rare Life Award", given to someone demonstrating courage, leadership, survival, devotion, character, in saving Zoey, and for his work saving animals on WVTK.
The award is chosen by voting.  The Grand Prize is $50,000 donated to the charity of the winner's choice.  Bruce has chosen Eskies Online, a multi-breed dog rescue, and the organization that helped Bruce save Zoey.
Here's where you can help … 
We're asking you for you take a moment and vote for Bruce.
You can vote once every 24 hours.
If Bruce Wins … Our Furry Fiends Win!