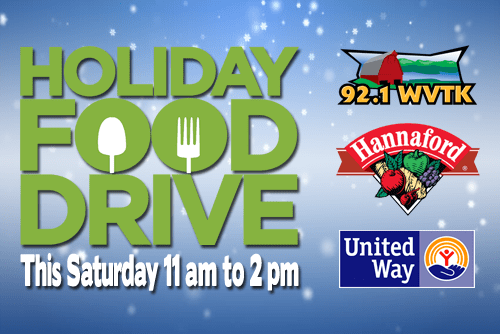 Food Drive This Saturday
Join us this Saturday at Hannaford in Middlebury from 11 am to 2:20 pm.
Ken Gilbert will be broadcasting live and collecting food and monetary donations to make sure everyone has food this holiday season.
All the donations and proceeds will go to the United Way of Addison County.
Some of the food items needed are …
Meals in a can (soup, stew, chili)
Tuna or canned chicken
Peanut butter
Canned foods with pop-top lids
Canned fruit in its own juice or water
Low-sodium canned vegetables
Olive or canola oil
Spices
Low-sugar whole grain cereals
Healthy snacks (granola bars, nuts, dried fruit)
Lets all work together this holiday season to make sure no one goes hungry!
See ya this Saturday at Hannaford in Middlebury.