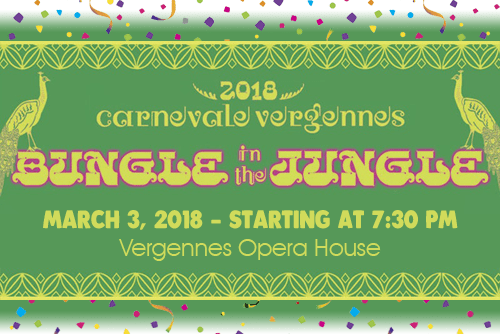 Coming up on March 3rd, starting at 7:30 PM … It's the 5th Annual Carnevale Vergennes at the Vergennes Opera House!
Carnevale Vergennes is a celebration featuring entertainment, music, food, games, prizes, and if you choose … costumes!
The idea for Carnevale, which means "End of Meat", comes from Europe when people got rid of all the things they couldn't eat before Lent.  So they had a huge party while they "Got Rid Of Things".
The "Party" featured wild costumes, food, drinks, and games of chance with prizes, and had a theme!
This year's theme is "Bungle In The Jungle".  You're invited to wear Jungle themed costumes!
Tickets for Carnevale Vergennes are $35 per person, with the proceeds benefiting the following non-profits … the Boys & Girls Club of Vergennes, the Vergennes Opera House, and the Vergennes Partnership.
Tickets are available at Classic Stitching on Main Street in Vergennes or by clicking the link below.