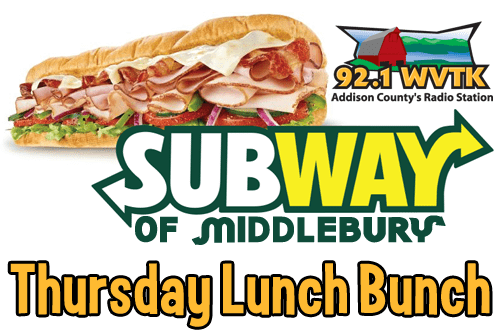 Looking for a way to improve your workday?
How about a FREE LUNCH from Subway in Middlebury and WVTK!
Every Thursday, we make it happen!  At 6:15, Bruce & Hobbes will put up a post about the Subway giveaway on the WVTK Facebook page.  All you have to do is "LIKE" the post and comment on why you'd like to win it, and you are instantly qualified!
Friday morning, right around 7:15, Bruce and Hobbes will announce the winner, and whoever they select, will get a certificate for a Subway Lunch platter for the following Thursday!
It's that easy!  A quick visit to the WVTK Facebook page, a "LIKE," and you are qualified to win the HUGE Subway Lunch Platter from Subway in Middlebury – where it's not fast food, it's fresh and delicious food for the whole office to enjoy!
A delicious, and tasty way to start Thursday – The "Thursday Lunch Bunch" from Subway on Court Street in Middlebury, and 92.1 WVTK