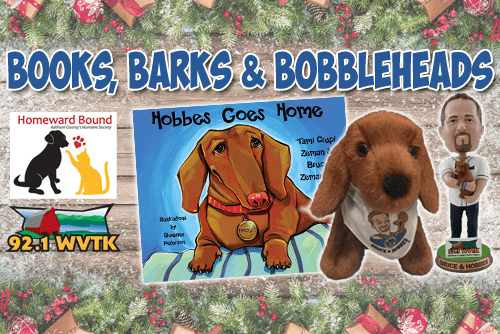 Running a no-kill animal shelter, like Homeward Bound, Addison County's Humane Society, is very expensive.  Not only the cost of running the shelter, but taking care of the animals gets pricey, which is why WVTK and Bruce & Hobbes are teaming up with Homeward Bound to make things easier & help raise money!
It's 'Books, Barks & Bobbleheads" to help Homeward Bound – just in time for the holidays!
Hobbes was rescued by Homeward Bound back in 2009, and now he wants to help other animals get a second chance.
WVTK & Bruce & Hobbes are hoping to donate between $5,000 – $10,000 to the shelter, but we need your help.
Now thru the end of the year, Bruce & Hobbes are donating 100% of the profits from EVERYTHING on their website – BruceAndHobbes.com to Homeward Bound, when you make a purchase!  All the prices have been reduced, & you can get great gifts, and help animals at the same time!
What People Can Purchase …
The 5th Anniversary Edition of "Hobbes Goes Home" featuring new content, and a forward written by former President Barack Obama, former VT. Gov. Peter Shumlin & Congressman Peter Welch – $13.99
Stuffed Hobbes Toy – $9.95
Limited-Edition, Bruce & Hobbes Bobbleheads – $3.99
It's easy to purchase, too! Go to BruceAndHobbes.com, make your purchase, put in the donation code "ACHS," & that's it! 100% of the profits from that order will be donated to Homeward Bound!