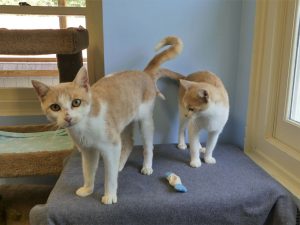 Doll and Big Foot are a year old.  They came from a hoarding situation with several other cats and kittens.  Ideally they will be adopted together, but at a minimum they need to be adopted with another cat or go to a home that already has a cat because they are very social and thrive around other felines.
Big Foot is a delightful little girl with a kitten-like purr who loves to be petted.  She is very gentle and is loving to learn how to play with cat toys, which seem to be very new to her.  (So she isn't very quick or coordinated as she bats at her toys.).   She gets along with all the cats in her community room. While she might hesitant be at first when meeting you, once she trusts you, you have a very dear friend for life.
Doll is a very smart cat who could spend hours playing with the stimulating games set up in her community room. She is very nice when other cats want to join her in play and she gets along with all the other cats in her community room.  Doll, like her siblings, adapted to shelter life very quickly. She is gentle and would do well in most homes.