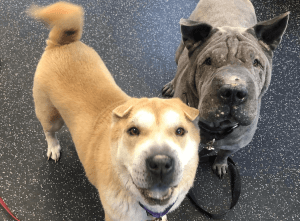 Nyla is so fluffy and beautiful we can't gush enough! She is 7 years young, fun and playful. She is tightly bonded with her best friend, Blue, and these two goofballs need to be adopted together in order to be happy. Nyla is a Shar Pei and needs an owner who understands the specific needs that can come with the breed. Nyla, just like Blue, will need regular vet visits to make sure she shines her best.
Blue is so cool! This guy is also 7 years young and a total ham. Blue is a pure Shar Pei and needs an owner who understand the skin care routine that keeps him comfortable and healthy, this includes: weekly baths with calming shampoos,  regular vet visits, regular medication to help with skin issues (Apoquel).
If you have been waiting for a dynamic duo like this, then don't wait! These buddies are ready to steal your heart and go home!
Dogs: No
Cats: Ok
Kids: Ok