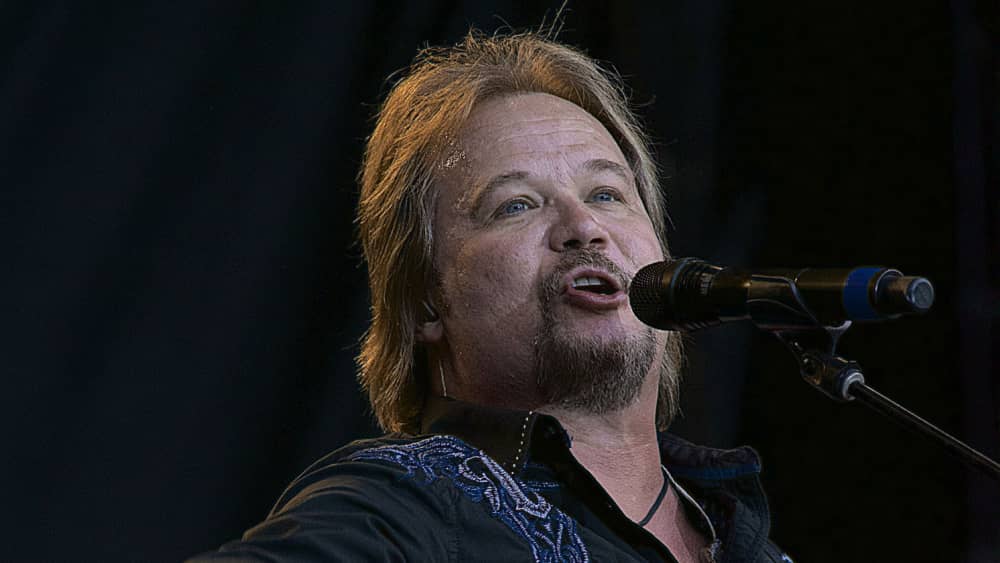 Travis Tritt is cancelling all concert dates on his November calendar, including remaining dates he was scheduled to play with Chris Janson for their co-headlining Can't Miss Tour.
Tritt announced the news on social media, explaining that he's taking time off to recover from a lingering injury:  "I have been experiencing severe pain in my left knee for the past few weeks due to a possible torn meniscus  With short bits of rest between shows, I had hoped that the pain would eventually subside and I could complete all of my remaining dates in November, including all the dates on the current Can't Miss Tour with Chris Janson and the War Hippies … Unfortunately, the pain has become impossible to ignore and I will not be able to do any further shows in November … I appreciate everyone's understanding and I hope to return to the road as soon as possible."
Tritt's Can't Miss Tour co-headliner, Chris Janson, also shared on social media that due to Tritt's injury, he won't be able to perform those shows as a solo artist: "To my fans that bought tickets to the "Can't Miss Tour", I just found out that Travis has a knee injury & has to cancel. Unfortunately I've tried every way to still come play the shows for ya'll but it's unable to happen! I'm sad & devastated."
The affected tour dates on the Can't Miss Tour are Nov. 3 in Greensboro, N.C., Nov. 4 in Florence, S.C., Nov. 5 in Richmond, Va., Nov. 10 in Anderson, S.C., Nov. 11 in Tupelo, Miss., Nov. 18 in Pensacola, Fla. and Nov. 19 in Atlanta, Ga.  Tritt is also canceling one solo show on Nov. 12 in Choctaw, Miss.  Refunds will be available via the point of purchase.
BREAKING: Travis Tritt Issues Statement After Canceling Remainder Of Tour With Chris Janson
Editorial credit: mark reinstein / Shutterstock.com