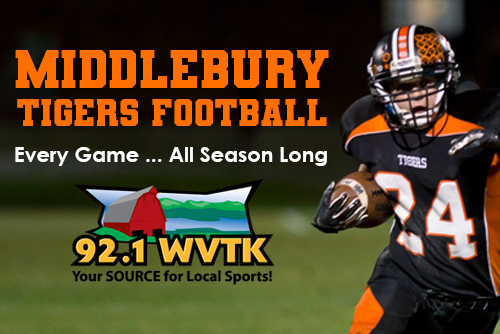 It's another MUHS Tigers Football Season, and 92-1 WVTK will be there for every play, every pass, every touchdown, all season long!
Rich Haskell will have the call of each game along with Bruce Zeman and Logan Chalmers.
Can't make the game or listen at game time, listen to Tiger Football on your schedule with "Tiger Football On Demand" at 921WVTK.com.  After each game, we'll upload the broadcast to our website so you can either stream the game or even download it to listen to at a later time on your computer or mobile device.
| | | | | |
| --- | --- | --- | --- | --- |
| Date | Opponent | Pre-Game Show | Game Time | Win / Loss |
| 09-03-2021 | at Fair Haven Slaters | 6:30 PM | 7:00 PM | Win 20 to 0 |
| 09-10-2021 | vs Burl / So Burl Seawolves | 6:30 PM | 7:00 PM | Win 22 to 0 |
| 09-17-2021 | at BFA St. Albans Bobwhites | 6:30 PM | 7:00 PM | Loss 17 to 7 |
| 09-24-2021 | vs Hartford Hurricanes | 6:30 PM | 7:00 PM | Win 15 to 7 |
| 10-01-2021 | vs Rutland | 6:30 PM | 7:00 PM | Loss 21 to 18 |
| 10-09-2021 | at CVU Redhawks | 12:30 PM | 1:00 PM | Loss 35 to 14 |
| 10-15-2021 | vs Mount Mansfield Cougars | 6:30 PM | 7:00 PM | Win 24 to 6 |
| 10-22-2021 | at Burr & Burton Bulldogs | 6:30 PM | 7:00 PM | CANCELLED |
| | | | | |
| 10-30-2021 | at CVU Redhawks | 12:30 PM | 1:00 PM | Loss 35 to 12 |
| | | | | |